Quick Links
A rapid-fire montage of masturbation, sex toys, orgasms and loud, ecstatic moans of pleasure suddenly flashed onto the big screen. Trailers and ads are rarely this interesting. Having wedged myself into one of Kino Moviemento's uncomfortable seats, I was nursing exhaustion with a bottle of Maté when the Ersties.com trailer came on. I have mixed feelings about this website. They have interesting locations and scenarios but their selection of bodies and sexualities seems decidedly normative at a diverse festival like this one. Compared to past years it was still a huge improvement. Previously every film was prefixed with least one painfully awkward trailer touting some generic streaming site or loudly proclaiming that 3D porn is the future. If most trailers are misjudged, annoying or even offensive, for once I felt like the Ersties trailer captured a little of the essence of the festival experience. The Berlin Porn Film Festival presents sex in all its forms being as something unabashedly beautiful and worthy of screening.
I always recommend the festival to people, painting it as a highlight of the cinematic calendar in Berlin and gushing about the great selection of films. Sadly, one mention of the word porn is enough to switch most of them off immediately. Even people who usually love interesting and challenging cinema seem reluctant to give it a chance. Sex, dealt with honestly and uncompromisingly, still carries plenty of stigma. In light of this problem, being at the festival is always a refreshing feeling. I get a pervasive sense that the cloud of judgment which usually hangs over sexual expression is temporarily dispelled. Everyone's own kinks and preferences differ wildly, but it feels like there's a shared understanding: a beautifully made porn film with an interesting perspective needs no further justification. The most significant problem with the festival is trying to take everything in. I spent at least an hour poring over the programme before booking my tickets but I still felt like I missed a lot. The porn festival is certainly exhausting but it's always worth the effort.
Input from producers and performers is a big enhancement to the viewing experience here. At many festivals, the QA sessions devolve into long-winded diatribes from the more vocal members of the audience. Here it usually happens differently. The directors mostly get enough time to explain what inspired the movies, the choices they made in filming and the experience of actually shooting and editing their work. Shine Louise Houston talked about the funding problems she'd experienced with her feature Snapshot, a queer porn homage to Antonioni's Blow Up. She explained what had influenced the construction of the key scenes in the film and how she'd assembled such a diverse cast. Towards the end, after tripping over a couple of words, she ended up giggling until it was impossible not to join in. Seeing the film with this context supplied gave me some interesting perspectives and made it even more fun to nerd out and spot all the references in the movie.
Later on Lasse Långström, the Swedish director of several queer porn shorts, explained the story behind their film Robert Frank. Made in reaction to a film school curriculum overly fixated on Robert Frank's work, the film features a man enthusing wildly about Frank before tearing his clothes off and being splattered with an unknown white substance. All the time he writhes around, still rambling about the greatness of Robert Frank. Långström explained that the film professors usually made snide comments about every student film, but they had nothing to say about this one. Another funny moment came just after a screening of Paulita Pappel's The Tinder Experiment. The film is about her friend Cleo using Tinder to seek out someone totally new to porn who is willing to have sex with her on camera. The very next film opened with a close-up of the same newbie performer's face. Amidst the laughter that resulted, Paulita explained that the setup for her film was real, but the performer then started making porn regularly. This moment was comical but it gave a small hint at the close-knit nature of the indie porn community. I dislike watching films in cinemas intensely but this underlined the (sometimes unexpected) advantages of a seeing a curated shorts programme with an audience, rather than rapidly digging through a large amount of unknown online content.
Every year the Porn Film Festival goes by much too quickly. With so much to see and so many things happening there's never much time for sleep or relaxation. I always finish the weekend burnt out but with the overriding feeling that there's so much more I still need to watch. Yet again I saw a ton of inventive movies, picked up new names, studios and websites to follow and this time even met a couple long-term porn heroines of mine. Whenever you go to the festival, it feels troubling walking away and back to reality on Sunday night. After a weekend filled sex positivity and hedonism, you suddenly have to relearn not to bring up the joys strap-ons, choking, squirting, fisting, caning, multiple orgasms or anything else connected with sexual satisfaction. If you're like me you also know that the only place you can really share and discuss the magic of the festival is on the internet. A friend at work asked me how my weekend went and I thought for a second before replying: "It was… good." It's difficult coming back to normality after spending a few days surrounded by like-minded people, watching amazing and expressive movies, but it's so worth it. My advice is always the same: if you appreciate good porn, good movies or even if you just want an injection of fresh and challenging ideas, the porn festival is an event you should really check out.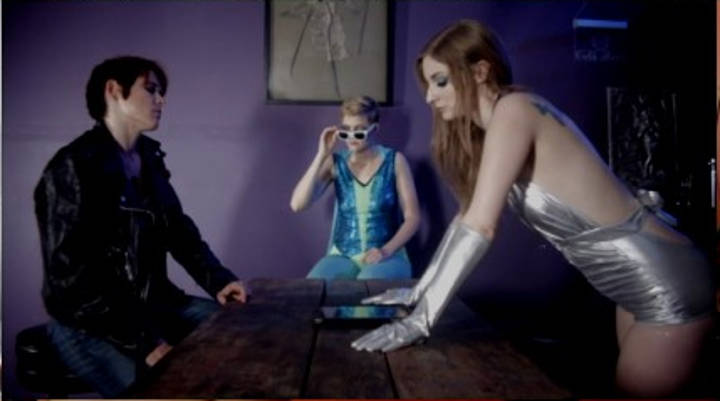 Lily Cade's lesbian super-hero movie was snarky, amusing and deftly written. Multiplex screens have been persistently clogged with formulaic and offensive super hero movies in recent year. This genre has become an easy target for satire. I expected this Heartbreaker vs Obscura to be an amusing take on a rapidly worsening movie genre, but it turned out to be much more. The humor pokes fun at normative ideas of love and relationships just as much as it grants its characters real feelings and sensitivity (at least in parts).
The story begins with Ice Queen explaining that super heroes never really lose their powers, they just lose the ability to find work and fall into obscurity. She herself has suffered this fate and doesn't expect to return to a life of crime fighting. That is, until her partner is kidnapped by the hench-women of a new and mysterious super-villain called Obscura. To rescue her partner, Ice Queen has to round up her former band of super-hero allies. The one person she believes can stop Obscura is a woman who goes by the name of Heartbreaker. She has become jaded and embittered as a result of her super power: the ability to make women do anything she wants. Together the three unite for a final mission to defeat Obscura before she can take over the world.
Most of the lines in Heartbreaker vs Obscura contained a biting observation about love, relationships or desire. Heartbreaker (played by Lily Cade) got the best jokes but every character carried around a darkly comical sense of despair and lack of fulfillment. As Lily Cade pointed out in the QA afterwards, the movie is mostly about turning thirty and turning a wry eye on life up until that point. As funny and oddly touching as this film was, the biggest downside for me was the echoes of mainstream porn it contained. If the sex and the orgasms in this movie were all real, much of it didn't come across that way on-screen. The tacit transphobia in some of the lines was really disappointing given the wit that most of the script exhibited. Heartbreaker vs Obscura is an "LA porn" movie that doesn't quite fit into that box. Flawed but definitely worth checking out.
Porn is at its most affecting does more than simply turn you on, it gives you a small window into a sexual experience with all the emotions, connections and sensations it entails. From my perspective, a film that manages to be sweet and emotive at the same time as being sexy is always something worth treasuring. Many of Pandora Blake's films aim to offer an interesting viewpoint on the dominant / submissive dynamic. Please May I Come, Mistress is one of my favorite examples. The film captures a passionate session between two people (Zak Jane Keir and Charlie J. Forrest) which defies many of the established norms of filmed BDSM scenes. In their appearance and the way that they dress, both performers look entirely unlike the stereotypical images mistress and slave. The session plays out largely on the floor of a hotel room, without any special furniture or stylised costumes. The focus here is purely on the dynamic between the two people and how they express it.
Pandora Blake took an interesting approach to filming this scene: although some aspects feel voyeuristic, watching this film feels more like being in the room and quietly observing by invitation. The way the camera is positioned gives the feeling of observing closely but not being directly entangled in what is happening. Enhancing this effect, the scene is interspersed with sections where the performers discuss their relationship, how they met and other things which led them to want to shoot a scene together. Porn films frequently foreground the voyeuristic nature of their art (and admittedly I usually find this really hot) but instead this film felt like an open conversation around two peoples' relationship and the dynamics of submission in general.
The QA session after the film also raised some points which resonated with me personally. Charlie discussed masculinity and the way it affects how male submissive performers are perceived. He used a term I found very apt - "defiant vulnerability" - to describe why he was happy with the way that the scene had turned out. Personally showing vulnerability is one of the things I struggle with the most and seeing this issue confronted on camera was really a positive experience for me. I found Please May I Come, Mistress sexy, well-produced and a genuine attempt to engage with the sexualities of the people it depicted.
Tangerine
This was one of my favorite movies of the festival, I wrote a separate review of it here. I wish they'd screened this at a time when more people could make it (it only played once on Thursday morning).

How many porn films, mainstream or otherwise, explore the vulnerable side of a sexually dominant character? There are certainly a few but the majority of fetish films I've seen, paint the top as being experienced, confident and comfortable to be driving the scene. The image fits well with the fantasy, but in reality people who play the dominant role don't simply step into it with immediate self-assurance and a full understanding of their desires. It's true that a porn film doesn't have to delve deeply into the psyches and motivations of its central characters to be sexy and interesting. However, it was refreshing to see a film which explored how the dominant character struggles with her inhibitions and how they keep her from fully expressing her fantasies.
Siri is a young woman who is preoccupied with domination and sadism but remains too shy and unsure of herself to carry her desires through into reality. She tries involve herself in the BDSM community and starts attending workshops, hoping to gradually lose her inhibitions. Despite her efforts, she still struggles to truly turn her dominant side loose. Siri's friend Lee offers to play the submissive role and guide her through her self-exploration. Despite her initial nervousness, Siri accepts Lee's offer and the two begin playing together regularly. Siri still holds back until finally her desires overcome her doubts and she begins to take pleasure in being dominant.
This film was a sweet and sometimes funny take on self-discovery. Siri's progression towards accepting her fantasies was well-observed and didn't simply feel like a foregone conclusion. Early on, Siri is given a flogger and proceeds to hit Lee with only the gentlest of force. The scene is comical and cute, but for me it captured the balance emotions that come from the desire to inflict pain on someone you also care about. The final scene is especially powerful in this regard. Siri and Lee play together and with Lee's encouragement her inhibitions finally dissolve. This film managed to give a fresh and interesting perspective on dominance and had a couple of scenes that I found really hot. This one was definitely a festival highlight.

Pastiche is one word that has gradually been drained of its meaning (thank you Quentin) but there are few better words to describe The Love Witch. The film makes fun of the outmoded blend of gender stereotypes and attitudes common to TV and movies in the 1960s. In amongst the satire I got the feeling that the film was also homaging the technicolour classics of yesteryear, albeit one with a sharp awareness of what made them so problematic. The humor was brilliantly written and consistently funny but also uniquely bizarre. Subtle jokes which played on stereotypes and expectations came right alongside brazen and well executed sight gags. The film was such a mixture of styles, references and unexpected elements combined in novel ways that it's hard to place in into a specific genre.
The Love Witch tells the story of Elaine, an eerily beautiful witch who speaks in vacant, lilting tones and harbors one desperate desire: to find a man who will to truly love her. She moves to a new town in an attempt to escape her troubled past, but her consuming desire for love soon gets her into trouble. She uses her skills with magic to brew love potions which render men into lovingly devoted and helpless creatures the moment they drink them. The potions always work too well and as each man turns out to be imperfect he is murdered to make way for the next. As the local police begin to catch on to the trail of destruction that Elaine leaves behind, her desire to find the perfect man drives her to the brink of madness.
It's hard to talk about this film without spoiling some of the great surprises it contains. Each scene has a wealth of fine details which have been crafted to be beautiful and haunting; combined they somehow produce something wildly comical and overstated. The most absurd lines are delivered in dead-pan style and even the throw-away sight gags are usually made with a beautiful prop or piece of scenery. The movie had a sense of hyper-reality – everything looked colourful, appealing and carefully arranged, so much that everything on screen seemed artificial or unnatural. Russ Meyer's films are a very guilty pleasure of mine given their distinct style but also the poisonous and backward attitudes they contain. With Meyer and similar 60s filmmakers in mind, the way that this film weaved its wry humor into every scene was especially entertaining. The Love Witch was an excellent and surprising end to the festival programme.
From a simple concept, this film builds something complex, multi-layered and intensely sexy. All the action takes place in one bedroom, but each scene takes place a decade apart. Running from the 1960s until the present, each scene offers a different take on sexual expression, wrapped up in the culture and iconography of the decade in which it is set. I find that small but crucial details are usually what define my memory of a great porn film. A director who can pick out just the right details invariably ends up with a film that is smoking hot. Anna Brownfield's film is overflowing with genuinely sexy moments, nostalgic references and skillful camerawork.
With relatively little dialogue and some carefully chosen props, Brownfield communicates so much about each character and the decade they live in. The two loud and outgoing gay guys in the 80s scene sport equally loud Hawaiian shirts. Their flamboyant clothes are offset by the sadness and tender concern they express for their friends who are affected by HIV. A character n the 2000s scene known only as Sexy_Dave uses MSN messenger to bother a woman to watch him masturbate. She agrees, but only for long as it takes to get herself off. After that she quietly shuts her laptop, leaving Sexy_Dave on his own. My favorite scene had to be the one from the 1990s in which two women (one of whom is played by Zahra Stardust) have sex after a night out at a lesbian party. As a foot fetishist I'm surely biased, but this was one of the hottest scenes I saw all weekend. They have rough sex together proceeded by several minutes in which they seem like they'll devour each other's feet. The most memorable shot made creative use of a long mirror to frame Zahra Stardust in the throes of fucking her partner with a strap-on. I enjoyed all the scenes in The Bedroom but everything about the 90s scene dripped with sexual energy and nostalgia. The Bedroom was really a viewing experience, and in trying to describe it in deftail I'd only detract from the visual treats it has to offer. It was an excellent opening film which not only turned me on immensely but also surprised me with its creative flair and its characters who were multi-faceted and sympathetic (even Sexy_Dave was tragically cute).

Here's a lesson in leaving your expectations at the door when you check out new films. The concept and direction come from from Nenetl Avril, someone whose work I'd never seen before. The film also features Mickey Mod in a dominant role. He's perhaps my only male porn crush, and once I saw him I quickly sutured myself into the film. I imagined him strangling me and choking me by sliding his fingers down my throat and I spent the rest of the time in a glassy-eyed state of arousal. Once it was over, I realised the film had worked its magic a little too well: I was too busy being hypnotised by the movie and its construction to really appreciate all the great details. Choke is a film which understands the ecstasy of a submissive session and the blissful sense of powerlessness evoked by choking and breath play. It takes these things and somehow packs them into a just a few minutes.
The film's concept is very simple: Nenetl Avril kneels in front of the camera whilst Mickey Mod stands behind her, holding her tightly and choking her. As the action progresses he brings her to the point of orgasm and makes her plead for it as he continues strangling her. The camera captures every strangled gurgle and blissful moan; all of the right details are picked out and foregrounded. The genius of this scene is in its simplicity and the way it conveys such a range of physical sensations and deep emotions. By keeping the camera static, the focus is placed entirely on the two performers and the connection between them. Nenetl Avril excels at opening up, showing vulnerability and intense pleasure on screen. Her performance brought a flood of vivid memories and breath play fantasies into to my mind. It was so easy to completely lose myself in this movie, not just because it played into my own experiences but because it found a way to express them so succinctly. The minutes I spent watching Choke were some of the most enjoyable out of the whole festival.